Portiershuisje, Amsterdam in front of the Olympic Stadion
The Porter House is a warmly decorated boardroom with a multipurpose room downstairs which makes it ideal for corporate events and meetings.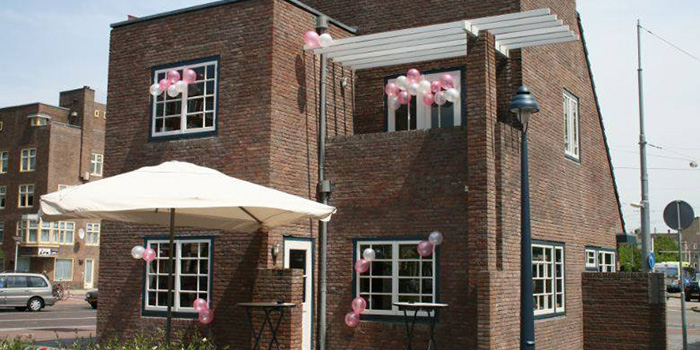 Meeting at the Porter House
The Porter Cottage has two rooms: The boardroom (top) and the lower floor. The boardroom is an inspiring space that is ideal for meetings, brainstorming, presentations or lunch up to 10 people. In addition, there is plenty of parking space available under the Olympic Stadium of Amsterdam.
 
The ground floor is a cozy space with many possibilities. From an intimate lunch to a presentation, reception or party with a larger group. The space can be arranged in many ways:
Block chosen: up to 21 people *
U setup: up to 19 people *
Theater: up to 45 people
* on request, we can bring the numbers up a bit.
Do you want to have a cozy break during your meeting? We have several options of GPS tours with assignments on foot and by bike, canoeing and team building games.
Communication board game 
We can not talk enough about communication .. Lets practice the things we talk about and Send, Receive, and we Experiment with our knowledge and expertise on communication in a fun and educational game.
Create your own business quartet
Relationship Marketing tool par excellence; a fun and surprising business quartet or memory game is the result. Also very suitable to go deep into the material. 
 
Means you! Interaction show
An interaction show of 45-60 minutes where we detach ideas and feeding, so innovation occurs. We offer innovation trainings. We present it in a manner which makes it easy to understand for all!
Ask about the possibilities for your meeting or brainstorm session at this unique location in Amsterdam
---
Number of people
From 10 to 45
---
Location
Meeting Location
---