Making a band
During this unique experience you'll become a real Rockstar!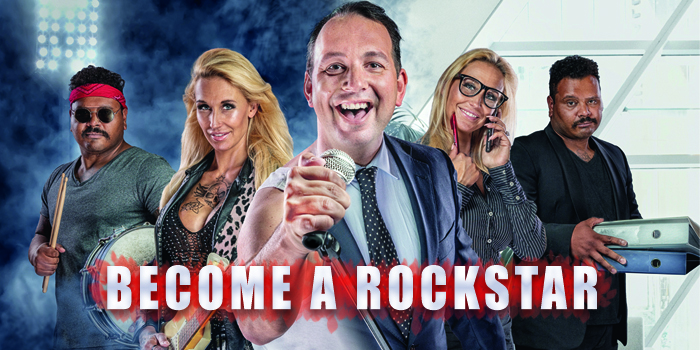 Making a band
During this event you think you are a real rockstar and you perform together with your colleagues. Singing, playing guitar, drums, bass or piano, everything is possible. Under the guidance of professional musicians, everyone is guided in the instrument that suits him or her best. Never played an instrument? No problem! You will be surprised how much you can get out of an instrument with the right guidance! And team teaming is all about teamwork so you don't have to do it alone!
Teambuilding with music
A teambuilding outing with music ensures that everyone can participate. After the fun and educational presentation you will get started rightaway. Different instrument groups are made and everyone starts working with his or her party under the guidance of a musician. After a short break, all different instruments are brought together and we form bands of all different instruments. To conclude, every band will climb the stage to give a spectacular performance! With all costumes, an unforgettable spectacle. Are you ready to play?
Company outing music
Making a band is an original company outing with music! It gives a lot of entertainment and can be used both as a summer- and winter outing. The company outing can be expanded with;
√ Lunch / dinner buffet
√ Drinks arrangement
√ Snack
√ Live music-quiz
√ Performance of the musicians
√ Photo shoot
√ Video recording of the day and / or performance
---
Number of persons
From 10 to 120
---
Location
Outdoor, Indoor
---
Duration
0
---