Tai Chi
Move with the 5 elements of energy. Tai Chi is a Chinese form of Martial Arts. In current day however it is more applied as form of spiritual and physical improvement. Tai Chi looks very appealing with its fluid movements.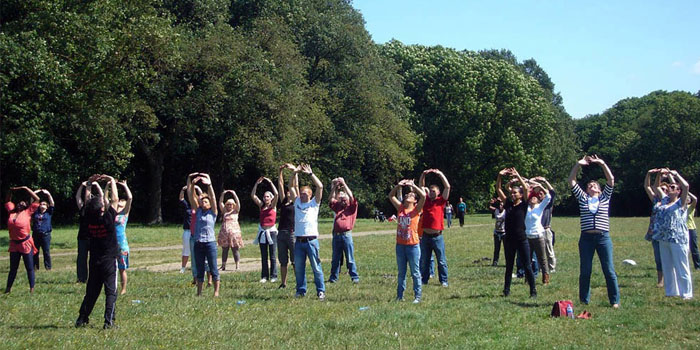 Tai Chi
The Tai Chi exercises are based on the 5 elements; water, fire, earth, wood and metal. A Tai-Chi clinic does not only have relaxing purposes, but also helps to keep the muscles and joints flexible, it adds to a good posture and adds to the energy level. Moreover you'll get back in balance. 
Tai Chi 
Young or old, everybody can practice Tai Chi. This sport is perfect to give fun, relaxing and dynamic interpretation to your event. In addition, this clinic can be held at any location. Thai Chi helps you to relax your body and mind. 
Tai Chi Workshop 
A Tai Chi Workshop moves people and contributes to team building. Therefore, tai chi is also perfect as a corporate outing or meeting break. Tai Chi improves your concentration and attitude. 

It also is a lot of fun!
---
Number of persons
From 8 to 100
---
Location
Outdoor, Indoor
---
Duration
1 hour
---