Ice Sculpting
Ready for a challenging and creative teambuilding activity? With Ice Sculpting you'll be making te most beautiful creations with your colleagues or friends. It might sound cold, but don't worry we make sure you have gloves. Besides after some sculpting and carving on the solid iceblocks you'll be warmed up pretty good yourself! Together we decide upon a theme and in teams we start our artistic journey to create a frozen piece of art. Which team has the best carving skills?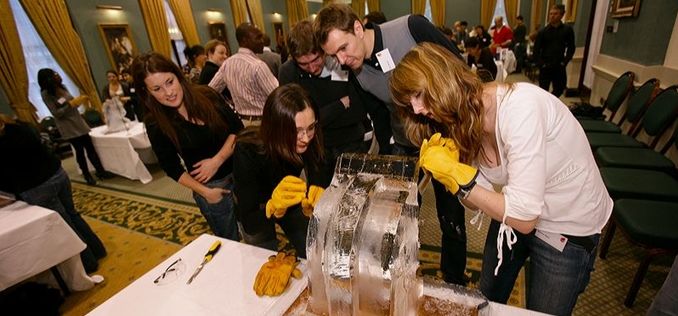 Possible on almost every location
Ice Sculpting Winter Outing
Ice Sculpting is a creative teambuilding activity that can take place almost everywhere during wintertime! The location will be equipped so every team has it's own workstation where they can work with complete dedication to creating a beautiful Ice Sculpture! As a team you'll make a design on the basis of the theme of the day. In the sculpting and carving fase you use the given tools to make a freezing piece of art which resembles the design perfectly.
Creative Ice Sculpting
With tools like hamers, chisels and chafes you're making an artwork out of a massive block of ice. Under the guidance of our instructors you'll learn the right techniques of the sculpting to create smooth and even shapes out of ice. Be careful however and work securly, because before you know there is a crack in the ice block. . . Fortunately there is no need to rush as we have plenty of time to carve, sculpt, laugh and have fun. After finishing your artwork you'll also get the opportunity to present it to our jury. What team has made the best artwork and goes home with the title of Ice Sculpting master?
Icesculpting as Teambuilding
Ice Sculpting is a perfect teambuildingactivity for companies, teams or group of friends. Everyone can participate in this activity and will have a vital role in the designing and sculpting. Teamwork is a real must in this teamouting! It is also a great activity to combine with a Winter Pubquiz, Curling or a winter style supper!
Ice Sculpting is easily organized in The Hague, Scheveningen, Hoek van Holland, Rotterdam & Delft.
---
Number of persons
From 8 to 100
---
Location
Outdoor, Indoor
---
Duration
0
---
Includes
Solid bright iceblocks, Icecarving tools, Professional instructor with first aid qualification & Gloves
---