Domino Teamday
Set your team's DOMINO record!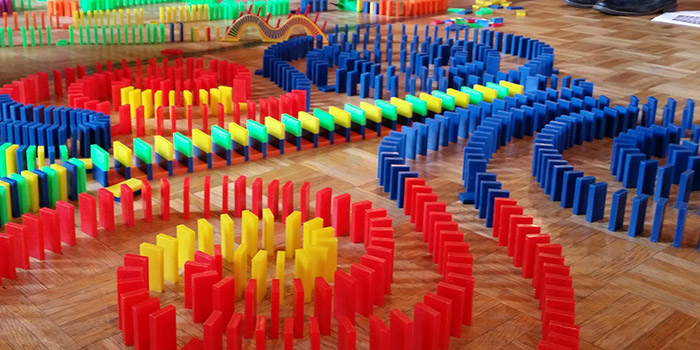 Domino Teamday
Collaboration, creativity and fun. All packed into one activity. Create awesome Domino symbols and structures with over a 100.000 dominobricks in a spectrum of colors! Challenge yourself and your team to create spectaculair stunts and effects. This teambuilding session is led by the supervision of a real Domino Coach who knows all the tricks of the Domino trade.
As the dominobricks get constructed, participants will be focused on communication, concentration and working together on a very detailed level. As every brick counts to deliver the teams ultimate performance you'll need everyone on board to get the maximum result. A perfect analogy for your teams work environment. 
The goal of the Domino Team Event can be adapted to your team or company's goals. Regularly the team will be divided in to smaller teams, where every team makes their own creation which will then be connected to eachother to make one big DOMINO!
CUSTOM DESIGN 
Looking for extraordinary and custom made? We sure can manage! Have your own logo or design printed on to the bricks. The possibilities are amazing as the techniques offer a lot of variaty. They can be printend on big fields of bricks, on custom made walls and 3D-structures.
A Solid and level floor surface is mandatory for this activity.
---
Number of persons
From 20 to 5000
---
Location
Indoor
---
Duration
0
---
Includes
Domino bricks & Professional instruction
---