Beach pavillon Zeebad, Hoek van Holland
A beach pavillon with a wide beach provides plenty of activities where everyone can enjoy a great day in the sun.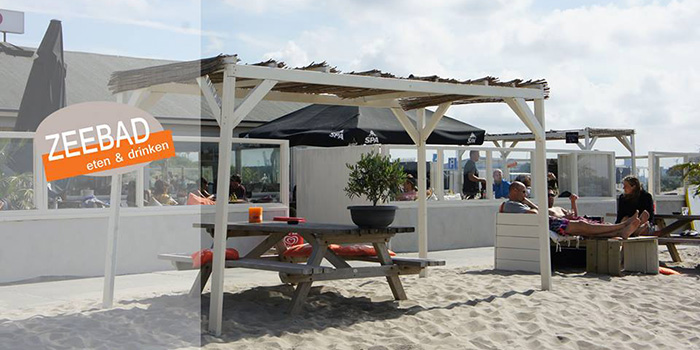 This location is also perfect in the winter. The pavillion can be booked privatly starting at 50 people. This location is also ideal for winter activities including beachgolf, discgolf, teamgames, olympic games, bonker honkey. Contact us for specific questions about packages and options.
 Corporate event without worries!
5-hour package for € 67.50 per person including VAT from 20 persons.
1. A nice welcome with;
coffee / tea / soft drinks and cream puffs
2. One and a half hours of activities under professional supervision, with a choice of:
A) Sports and games components (active), three operations to
         choice in competition shape out;
* Beach Volleyball * Knots Hockey
* Soccer * Twin Beach Tennis
* Lacrosse * Beach Ultimate Frisbee
B) Team Games, with 6 games focused on cooperation.
         (mix of active and passive games)
C) Power kiting, kite flying with kites of different sizes.
(Challenging but adapted to one's own level)
3. Drinks Refreshments including snacks
(start 2,5 hours domestic distilled beverage package)
4. BBQ Zeebad Fish & Meat
- Spare Ribs marinated sweet
- Chicken satay
- Steak skewers
- 100% Beef Burgers
- Whole salmon on the BBQ
- Garlic Prawns
- Pasta Salad with Mozzarella and tomato
- Homemade potato salad
- Rataouille in herb oil
- Rice garnish and fries
- French bread with sauces and herb butter
5. end of a happy day with good food, drink, teambuilding and fun!
---
Number of people
From 8 to 400
---
Location
Beach Location
---