Fencing
Have you ever dreamt of an old fashioned duel just like in the movies? You've seen or heard about them, the exciting on screen fights played out by the Three Musketeers or Zorro! This clinic will teach you the basics of fencing.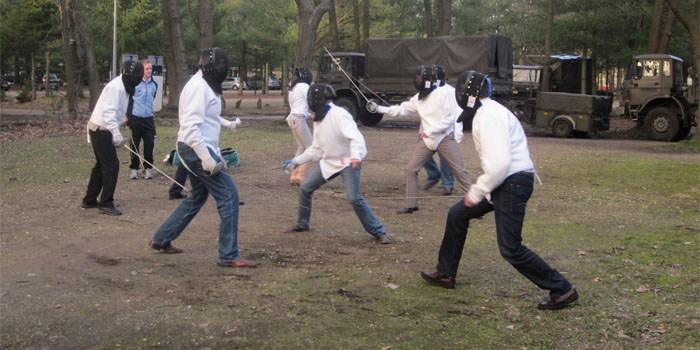 Fencing
As start of the clinic you first have to put on the special screen uniform. Then use your foil, epee or sadel to hit your opponent on their body. Who wins this fun battle!? 
Fencing clinic
You will learn the elementary attack- and defensive skills which will enable you to actually fence a duel. Everyone will get their own saber, protection mask and special outfit. Action, reaction, game skills and excitement are keywords to this activity.
Fencing as a corporate outing or meeting break
Young, old, very sporty or a little less sporty, this fencing clinic is fun to do for everybody. This clinic can be held at almost every location. Are you able to beat your colleagues during a fencing clinic as corporate outing? 
---
Number of persons
From 10 to 100
---
Location
Outdoor, Indoor
---
Duration
1 hour 30 min
---
Includes
Everyone gets a saber, protective mask and special clothing
---