Borrelbox
A box full of local and sustainable products from entrepreneurs located in the The Hague area.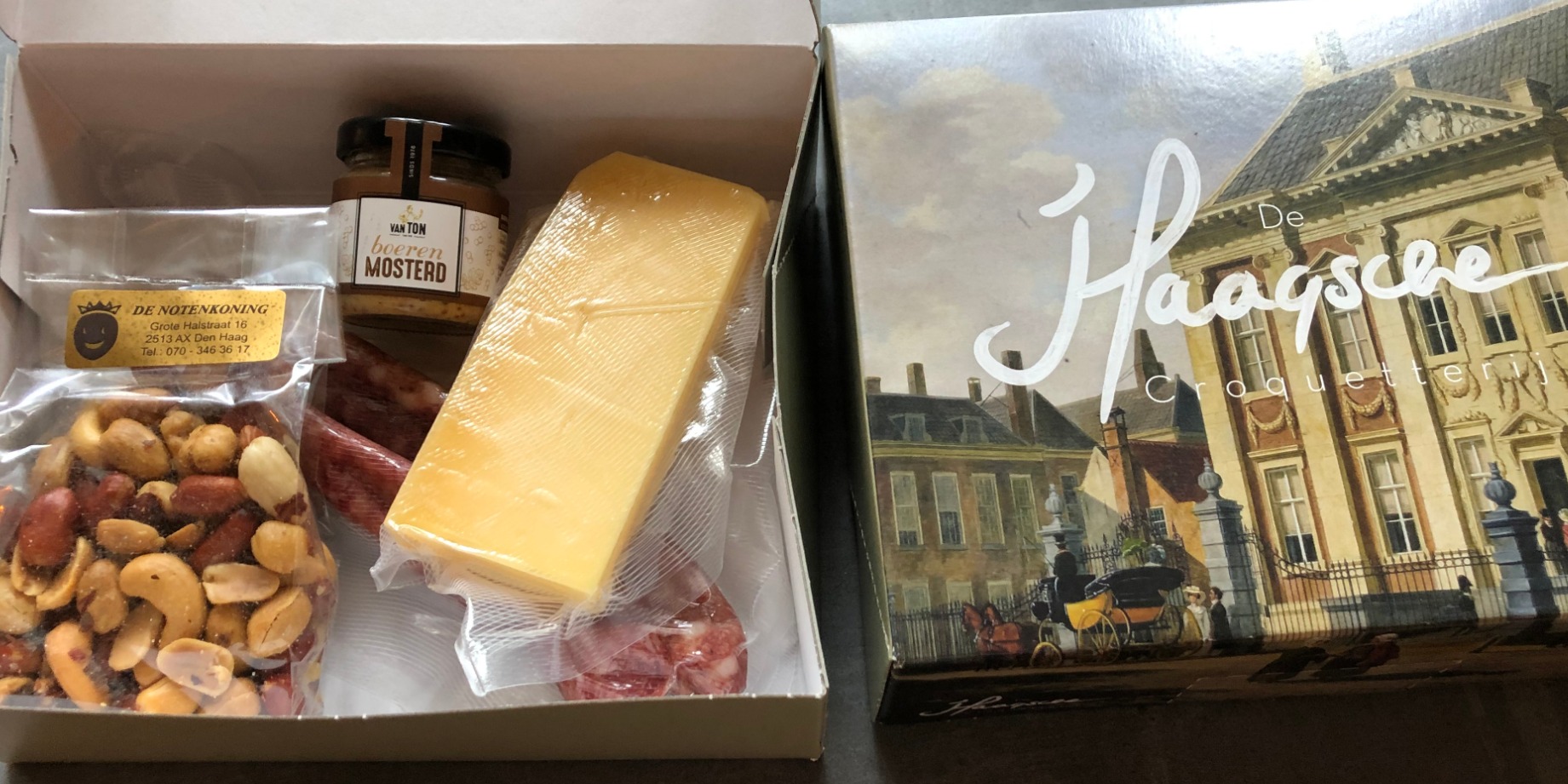 Snackbox for with a Pubquiz
We would like to introduce the A-Way Events 'Snackbox' to you. This box is full of local and sustainable products from entrepreneurs located in the The Hague area.
Sustainable products in the snackbox from A-Way Events
Choose for a sustainable borrelbox of regional entrepreneurs and products.
Hard sausage
Pure farmer's cheese from grazing cows
Farmer's mustard from Ton
Nut mix of the Nut King
Option: Local beer from The Hague
Our hard sausage is made from cows that grazed on pastures in South Holland, connected to the The Hague area. Spicy, full of character and with a firm bite.
The Snackbox also contains pure Farmerscheese from local pasture cows. The cheese has been aged for six months to a year. The older the cheese, the better the taste. The cows have lived outdoors for plenty of time and grass was the most important part of their diet. That is why the cheese is nice and soft.
To accompany the cheese, we offer you Farmers mustard from Ton or Voets cheese dip. Both are a delicious, honest sauce. A beautiful, sustainable product, which can only be obtained with the perfect recipe, the best ingredients and love for the trade. And that you can taste.
You receive also a nut mix from the Notenkoning. Nuts are full of healthy and natural nutrients. For example, nuts are gluten-free and provide a good source of necessary proteins and minerals. So a handful of nuts every day is a healthy snack.
Friday afternoon Pub quiz and Snackbox
Turn your digital Friday drinks into a party by playing an online pub quiz together while enjoying a delicious and honest snack box. Because of Covid-19, most people work from home and colleagues only see each other online. With our Pub Quiz and Smack Box you are cozy together but still at a distance. No meeting for a while, just laugh together and play a game. Beforehand, everyone receives a nice box with all kinds of tasty snacks at home. Simple, fun and cozy
Let's enjoy the Quiz and the Snackbox together!
---
Number of persons
From 10 to 250
---
Location
Outdoor, Indoor
---
Duration
1 hour 30 min
---