Soccer hexathlon
6 Unique Football games! Battle each other in these games which are all in the spirit of Hollands number one game: Soccer!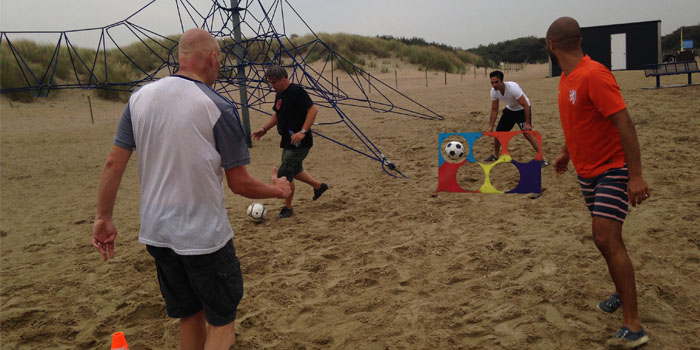 Soccer Hexathlon 
FInd out who of your friends, family or colleagues has the best soccer techniques. Soccer hexathlon is fun for everyone, beceause different topics are covered. The sportsmanship among participants is significantly tested at the football hexathlon.
Hexathlon
This hexathlon is not only for the trained soccer players. Everyone can join these games! The games differ from being active to inactive and ball control is not always required! 
The games in this Football Hexathlon are:
- Twinsoccer
- Blind man soccer
- Pole soccer
- Ballrace
- Soccer quiz
- Soccer Bowling.
If you like to play footvolley we can add this game to this fun event. 
Soccer hexathlon 
Go along with your colleagues or friends to these challenging activities. Very suitable as a group outing, team outing or team building activity. 
Soccer hexathlon is for everyone, but for men in particular!


Andere activiteiten: 
Team Games
Hexathlon
Bubble Soccer
Fencing
Check here for more beach activities. 
---
Number of persons
From 10 to 100
---
Location
Outdoor
---
Duration
2 hours
---
Includes
Instructor(s)
---