Rafting
Rafting in Holland, it´s possible! The best wild water can be found on the North Sea! This is a sensational activity for you and your colleagues to work on team spirit.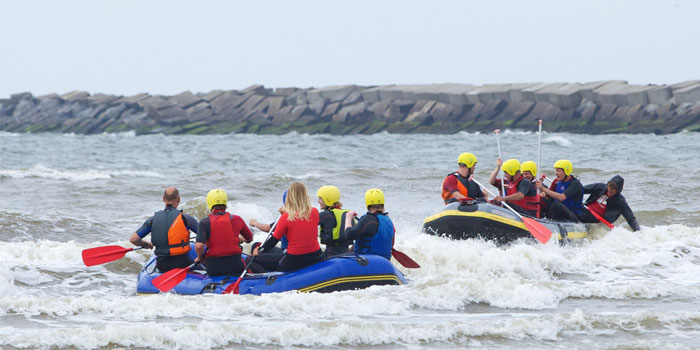 We offer rafting clinics on the beaches Ouddorp, Hoek van Holland, Kijkduin, Katwijk, Noordwijk, Zandvoort, Wijk aan Zee and IJmuiden.
Rafting The Hague 
Running full speed from the beach into the waves of the North Sea. Speed, timing, the fight for the buoy and the race for the finish! A spectacular challenge!
Rafting clinic
The clinic begins with a brief explanation, afterwards you'll defy the water by yourself. Ofcourse an experienced skipper will go with you! This rafting clinic is a perfect teambuilding event to strengthen your team. Which colleagues are truly cooperative and have the best team spirit? 
Rafting
During the rafting you'll learn to conquer the waves together as a team. Therefore, a clinic rafting is ideal for corporate, group or team outing. It is also a great break from your meeting at the beach! it is an intensive watersports to experience together with your friends, family or colleagues. Excited? Go for this challenging activity!
Expand your event
For just € 5,- a person you we arrange an extra beach activity for your group like Beachvolleyball, Powerkiting or Twin-football. We even extend the event with another hour so you don't have to rush.
---
Number of persons
From 8 to 60
---
Location
Outdoor
---
Duration
1 hour 30 min
---
Includes
Helmet, wetsuit, life jacket and instructor(s)
---