Landboarding
(Kite-)landboarding Landboarding is quite similar to kitesurfing but differs in the fact that kitesurfing takes place on the ocean as where landboarding takes place on land. While standing on a board with small wheels, you will be pulled forward by a kite.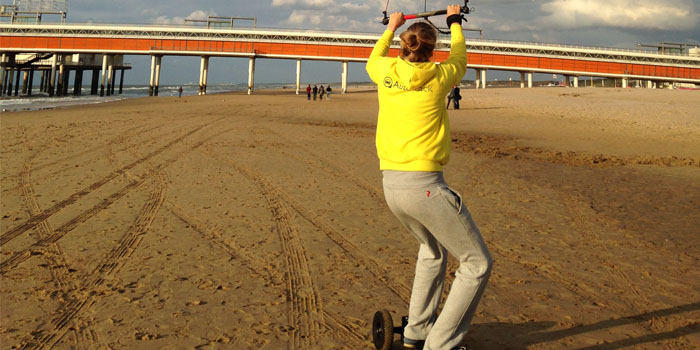 Only possible with low tide
Landboarden 
Come and enjoy the wind at the beach! to go landboardig it has to be ebb and ofcourse there has to be enough wind. During a clinic you will learn the different techniques of landboarding. This clinic will be given by an expert! 
Landboarding 
Blown ahead by the wind and reach brisk speeds. Landboarding is a fun and challeging activity for everyone and therefore perfect as outing with your friends, family or colleagues. Once you can landboard perfectly, it will be easier to go powerkiting. 
Landboarden The Hague 
A clinic landboarding can be held at a lot of different locations. Not only at The Hague, but also at other locations at the beach.
Soon you become better and landboarding will be more fun everytime. Landboarding is a fun and exciting activity for everyone!  
Other activities:

Powerkiting
Blokarting
Rafting
Stunt Kiting
Beach Tennis
Check here for more fun beach activities. 
---
Number of persons
From 8 to 20
---
Location
Outdoor
---
Duration
1 hour 30 min
---
Includes
Instructor(s), helm and landboard
---