Beach Tennis
Playing tennis on the beach! Beach tennis is a combination of beach volleyball and tennis and is played with a wooden beach tennis pad. We organise an exciting competition in which you can play singles or doubles!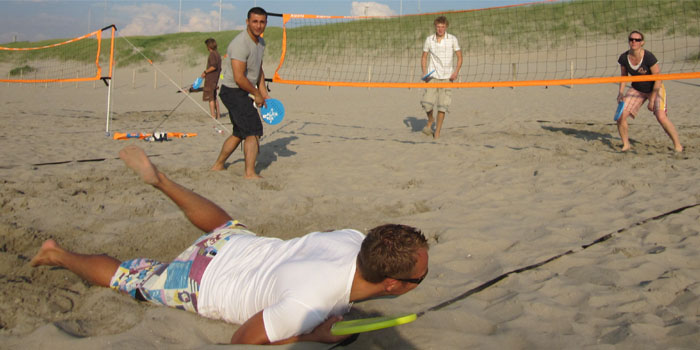 Beach Tennis 
Beach tennis is a spectacular and fast game that's played in pairs with special beachtennis rackets. The beauty of this game is that you don't have to be tennis player to play this game. Tennis is accessible and fun for everyone. 
Beach tennis clinic
The beach tennis clinic will be taught by an experienced instructor. He we teach you the right tecniques, you can apply in the competition. It's a challeging clinic regardless of the age or fitness of the players. After the clinic we can hold an exciting clinic for your family, friends or colleagues. Join beachtennis! 
Beach tennis 
Beach tennis is suitable as team outing or corporate group outing! Beach tennis can be as intense as you wish and is perfect as teambuilding! 
The games are played on a pitch of 16m by 8m. The net is put up at a height of 1.70 meters. 

Beachtennis is a quick and addictive game and the hype of the new beach season!
---
Number of persons
From 8 to 40
---
Location
Outdoor
---
Duration
1 hour 30 min
---
Includes
Competition Management, competition and award ceremony
---